System Overview
Offered in 2-Stack, 3-stack or 4-stack configurations
Custom configurations available
May be configured for atmospheric, LPCVD or PECVD processes
Heating elements with 6″, 8″ or 12″ dia. wafer processing capability
18 (46cm) thermal flatzone, temperature stability full length of flatzone = +/- 0.1c
Inline load station with cantilever, soft-landing or pusher/puller loading systems
Soft-Start Mass Flow Controlled gas systems
Per tube digital process and temperature controllers
Start-Up Assistance, system functional qualification and training available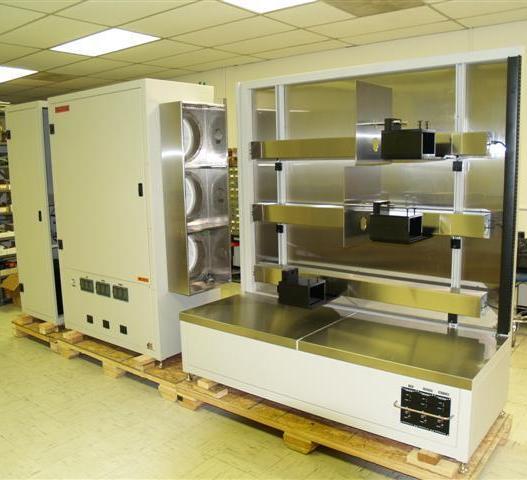 Ideally suited for university, R&D and low production requirements
Facilities Specifications
Electrical Requirements 220 – 480 VAC, 3 Phase, 50/60HZ
Load Station 73 (185.4cm) W x 76 (193cm) H x 27 (68.5cm) D
Furnace and Scavenger 58 (147.3cm) W x76 (193cm) H x27 (68.5cm) D
Gas Cabinet 23.5 (60cm) W x76 (193cm) H x 27 (68.5cm) D
Sirius JuniorTM Furnace System Advantages
Economical A Sirius JuniorTM furnace with capability for future process capability expansion may be ordered for less than $100,000.
Versatility Pacific Thermo Sirius JuniorTM furnace offers a wide range of Atmospheric, LPCVD and PECVD process capabilities for wafer sizes up to 450mm diameter. Our furnace systems may be configured to have any or all of these capabilities in the same frame. The system may be configured with two, three or four tube levels.
Minimal Floor Space Our Junior furnace and gas cabinet occupies less than 13 ft2 of floor space, the load station occupies less than 14 ft2.
Design Flexibility The Sirius JuniorTM furnace may be ordered with one or more tube levels populated, these tube levels may be populated at a later date in the fab. This is a significant advantage over table top style furnaces.
Automatic Loader Station The furnace may be ordered without a load station (manual loading) and the load station with auto-loaders (cantilever loaders, soft-landing or push/puller systems) added at a later date.
Heating Elements Pacific Thermo heating elements are guaranteed up to 13500C and have one of the longest warranties in the industry.
Gas Systems Pacific Thermo offers both standard and custom designed gas systems to meet our customer specific processing needs.
Process Sequence Controller Our furnace design uses an independent process sequence controller per tube level allowing ease of expansion (to de-populated tube levels) and eliminating system shut-down of multiple tubes. Our controller also has a life time warranty.