The Pacific Thermo TEMPTRONICS 2900LS Temperature Control System provides accurate and stable temperature control of liquid source chemicals.
Features and Benefits
Microprocessor based control for accurate and stable temperature control
Chemical level (Optional)
Modular design for easy installation
Computer interface for remote control and monitoring
Electronic level sensing for monitoring
Accepts all standard 1500cc source containers
Full range of safety interlocks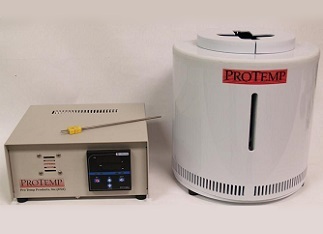 TEMPTRONICS System Specifications
PERFORMANCE
Temperature Control:       100C to 300C
Temperature Accuracy:    + 0.20C of setpoint
Temperature Stability:      + 0.10C
Readout Resolution:         0.10C
ALARMS
Liquid Level Alarm:
Alarm activated when level reaches 15% of full
Temperature Alarm:
Alarm is activated when the sensed temperature is not within + 20C of the setpoint
Alarm Indicators:
All alarm conditions generate an audio alarm, flashing LED display with alarm condition and an alarm output through the computer interface.
DIMENSIONS
TEMPTRONICS Electronic Module
Height: 4.5 inches (11.4 cm)
Width: 9 inches (22.8 cm)
Depth: 7 inches (17.8 cm)
Weight: 8 lbs. (3.6Kg)
TEMPTRONICS Cooling Unit
Height: 10 inches (25.4 cm)
Diameter: 10 inches (25.4 cm)
Weight: 6 lbs. (2.7 Kg)
MOUNTING
The Cooling Unit must be mounted on a level, low vibration surface.
The Electronic Module can be remotely mounted up to 20 feet (6.09M) away from the Cooling Unit.
POWER REQUIREMENTS
Electronics Module: 120/240 VAC, 50/60 Hz,  1.5 Amps
Cooling Unit: 120/240 VAC, 50/60 Hz,  1.5 Amps