Features
Can be interfaced to any gas control system
High degree of versatility
Dual silicon carbide heating elements
Audio/visual alarm for under ignition temperature status
Audio and visual alarm if one element fails
Manual/automatic control selection
Competitively priced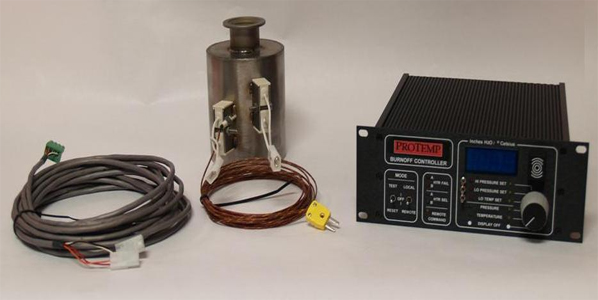 The Pacific Thermo Flammable Gas Burn-Off System can be utilized with virtually any gas control system/ diffusion furnace combination, providing an extremely high degree of reliability and operator/equipment safety.
The H2 Burn-Off system uses dual silicon carbide heating elements and a thermocouple housed in a metal box.
The operator controls allow either manual operation or interfacing to an external timer/programmer.
Safety provisions and interlocks are comprehensive. Audio/visual alarms appear in the event of an element failure or in the event of an element failure, the alarm will sound and system will continue to operate after auto switching to the operable element. In the unlikely event both elements fail, or an under-temperature condition exists, the appropriate alarm sounds and flammable gas flow is shut down.